Manresan Achievers (Class of 2022)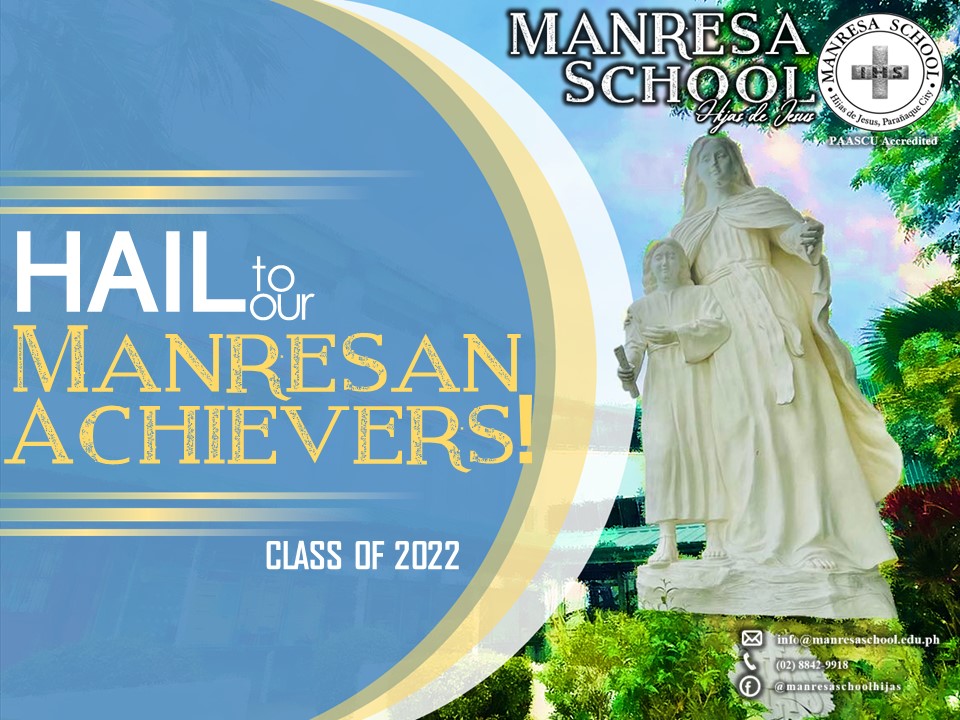 Manresa School takes great pride in its alumni achievers of Class 2022 who have achieved remarkable feats in their chosen careers in college. Congratulations on your well-deserved success! May your future endeavors be fulfilled and established through God, our loving Father.
SUMMA CUM LAUDE:
Antivola, Miguel Hanz L.
Bonifacio, Janessa Romaine T.
Gallego, Paula Mari D.
Loberiza, Angela Fatima A.
Santos, Juan Paolo C.
Sinay, Angelica Marie J.
MAGNA CUM LAUDE:
Arellano, Dulce Angeline H.
Castro, Alexandra Louise R.
Cortes, Pedro Gabriel S.
Miranda, Carla Dominic I.
Sandoval, Luis Alfredo B.
Tiong, Ryan Christopher F.
Tumala, Hannah Gwyneth J.
Untalan, Ma. Sophia E.
CUM LAUDE:
Alto, Harold Wilson N.
Arellano, Bianca Angeli H.
Bautista, John Ryan C.
Cagatan, Elise Abigail M.
Cruz, Moreen Gabriele B.
Federigan, Kyle Ian V.
Figueroa, Chloe France U.
Floreto, Sophia Justine L.
Gonzales, Neil Paolo S.
Mandac, Camille Dominique O.
Marasigan, Mikaella R.
Martinez, Julio Jose A.
Parfan, Kate Lyle M.
Porras, Nathalie Danielle C.
Urmatam, Timothy John S.
Villarroel, Maria Athena G.
Virtucio, Renzo John L.
Please take note that the list is neither complete nor exhaustive. We hope to provide updates soon.