A Close Encounter with the F.I. Sisters: A Valuable Learning Experience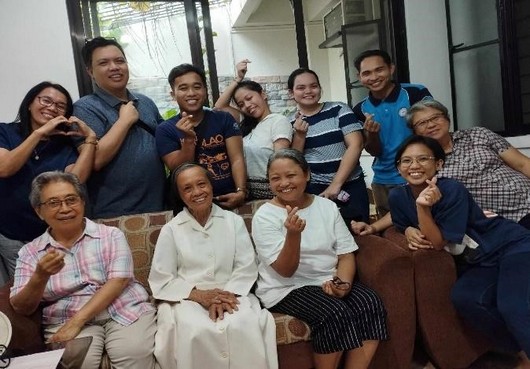 The sunny morning of August 19, 2023, ushered us, the junior high school CLE teachers of Manresa School, to a meaningful pilgrimage to the apostolic centers of the Hijas de Jesus in Metro Manila. As CLE teachers, we desire to deepen our knowledge about the history of the congregation, charism, and spirituality of Mo. Candida and the ongoing formation of the lay educators and sisters in formation in a more tangible, intimate, and personal way.      
The first stop:  National University-Nazareth School (NUNS), Sampaloc Manila
Over cups of coffee, bread, and everything on the table, Sr Mary Juelar and Sr. Marianita shared the history of the congregation and more of Nazareth School which stood the test of time as a retreat house, a place of refuge to the locals during World War II, and an acclaimed Catholic School for several decades. At present, Nazareth School known as NUNS, has a new face and apostolic mission to more than three thousand children, youth, and employees who enter its doors every day. The charism of Mo. Candida is greatly felt by the students, teachers, and parents through the welcoming presence and active involvement of the sisters in the pastoral and religious affairs of the school. According to Sr. Nitz, working in NUNS as a merged and inclusive school is very challenging but also fulfilling as it becomes a rich and fertile ground for Christian education and evangelization of children, youth, teachers, and their families alike. We were awed and moved by this spirit-filled reality of National University-Nazareth School as a new part of our history.
Campus tour and pose with Sr. Nitz and Sr. Mary in the Sisters' residence. 
Second Stop:  At Manresa Retreat House Residence, Mater Dei, and TCMJ, Quezon City
After National University-Nazareth School, we went to Mater Dei, Quezon City. We enjoyed the familial ambiance and camaraderie with pica-pica food and drinks in the community. When asked how she lived out the spirituality of Mo. Candida in her task and mission, Sr. Armie promptly shared that using and disposing of the resources properly and responsibly; and being transparent and accountable as a treasurer are ways on how she lived out Mo. Candida's spirituality. Sr. Anna Cinco deepened our understanding of spirituality far more than we had anticipated through the sayings of Mo. Candida that resonated with us. Indeed, Mo. Candida's spirituality can be lived out by the lay and religious alike; individually and as a community. 
The last and final stop: Blessed Antonia Bandres Formation Center, Marikina City
We reached Marikina at past one o'clock in the afternoon and the sisters welcomed us with so much joy, gladness, and a sumptuous lunch.  After partaking in the food, Sr. Leoly explained the stages of formation for those who aspire to become Hijas de Jesus sisters. It was expounded by Sr. Rachebelle Basco, a new postulant who joyfully shared with us her vocation story and the charism of St. Candida with confidence and eloquence. Ongoing formation of the lay is important according to Sr. Leoly because it helps deepen our knowledge about the Congregation and strengthen our commitment to our shared mission.  Sr, Lilian added that our being--who we are as Hijas de Jesus, also matters after acquiring different kinds of formations.
Listening to Sr. Leoly and to the vocation story of Postulant, Sr. Rachebelle Basco.
A pose with Sr. Bema Solis, Sr. Fely de Jesus, Sr. Leoly Quitorio, Sr. Rachebelle Basco, and Sr. Lillian Lim.
            As we went back to Manresa School, we savored the grace-filled moments and valuable experiences about Mo. Candida's charism and spirituality which we profoundly felt among the sisters and larger family of St. Candida. The pilgrimage is a challenge to bravely embrace what lies ahead and an inner journey towards the kind of Hijas de Jesus lay collaborators that God wants us to be. Sr. Thank you, sisters, especially to the Manresa School administration for this opportunity.
By Ms. Ma. Luisa Mandario