Belated Celebration of Teachers' Day was A Joyous Gathering of the Educative Community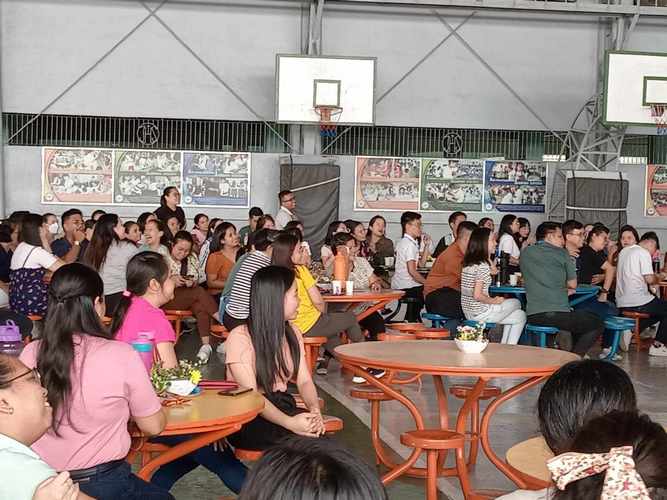 From the invitation to this event: written by  Mr. Dan Mark Christopher A. Geronimo HS PRO, MSFSO 
"Be cheerful with joyous celebration in every season of life. Let your joy overflow! - Philippians 4:4
Pagod ka na ba? Tara, PA/HINGA! PA/HINGA: Pause, Play, Pose" on November 17, 2023, at 8:30 – 12:00 PM at the MS Old Gym. As one family of St. Candida Maria de Jesus, this simple celebration and get-together aims to recognize and honor your unwavering service, dedication, and hard work.
In a heartwarming turn of events, the educative community of Manresa School came together to celebrate a belated but unforgettable Teachers' Day. The festivities commenced with a solemn Eucharist presided by Fr. Raul Tito Ranola, setting the tone for a day filled with gratitude, camaraderie, and appreciation for the dedicated educators shaping the future.
The belated celebration, organized by the school administration and supported by enthusiastic students, took place at the old Gym where Faculty and staff and the whole maintenance personnel gathered for a memorable day of fun and camaraderie.
Following the Eucharist, the educative community transitioned into a short but delightful program that captivated the hearts of all participants. The program included a series of fun-filled games, riddles, and creative presentations. The joyous atmosphere resonated with laughter and applause, creating a sense of unity among the members of the educative community.
While Teachers' Day is traditionally celebrated on a specific date, the essence of the celebration lies in the appreciation and acknowledgment of the efforts of educators. It warms my heart to see such a genuine outpouring of gratitude from our students which was shown through a video presentation while the mentors were taking their lunch."
The belated Teachers' Day celebration served as a reminder that appreciation knows no calendar constraints. It reinforced the idea that every day is an opportunity to express gratitude for the individuals who play a pivotal role in shaping the minds and character of the younger generation.
As the event concluded, the educative community left with a renewed sense of purpose and a deeper appreciation for the bonds that connect the Admin, the Sisters,  teachers, and staff. The belated celebration of Teachers' Day will undoubtedly be remembered as a day filled with love, camaraderie, and a collective commitment to the pursuit of knowledge and personal growth.
The morning's festivities culminated in a delectable luncheon graciously provided by the Sisters, leaving everyone not only joyous but also satiated with contentment.
Images of THAT day