Five Years of Friendship: Manresa School and Shotoku Gakuin Reunite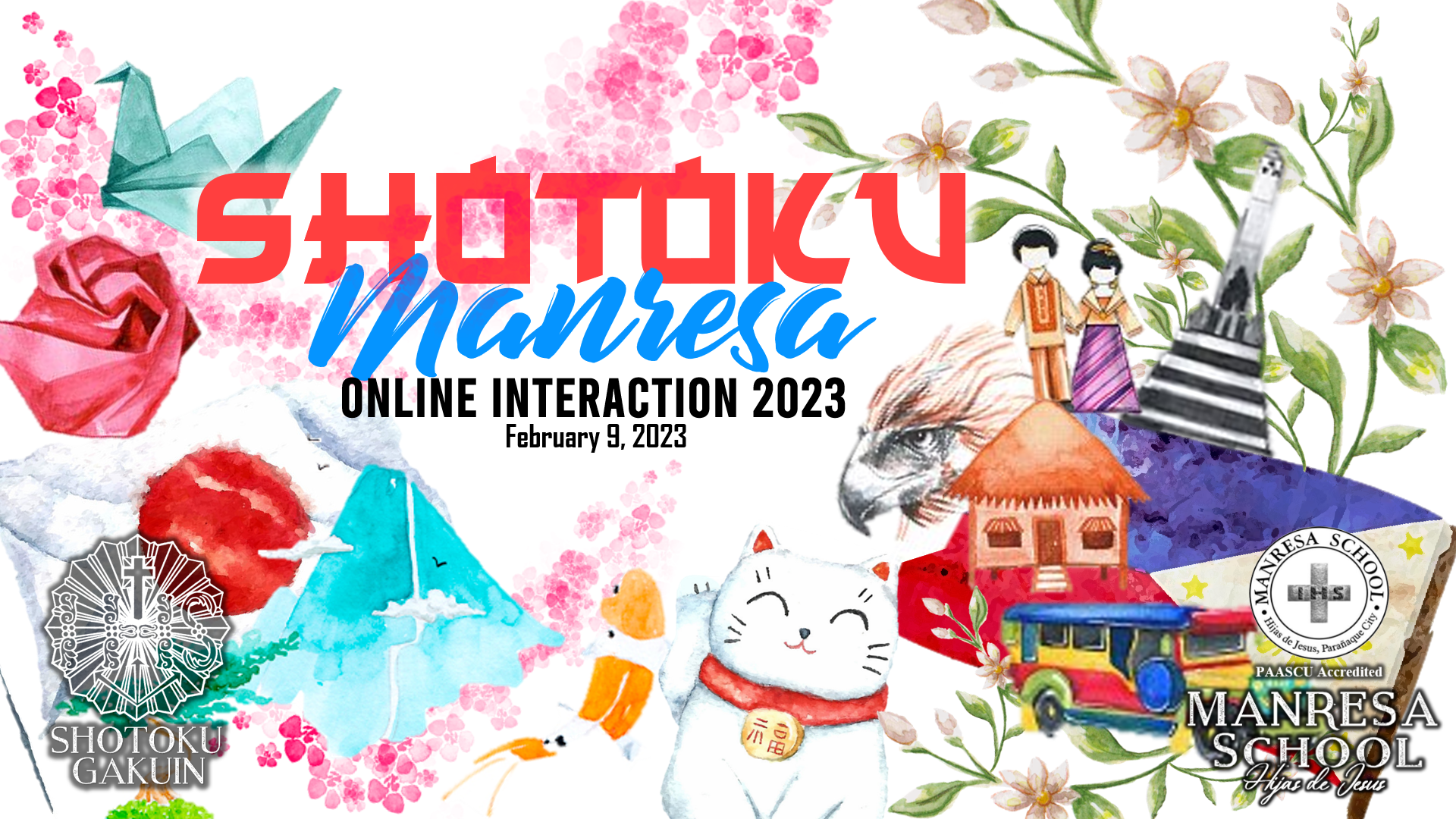 Junior high school students from Manresa School (Philippines) and Shotoku Gakuin High School (Japan) reunited through an organized online encounter last February 9, 2023.
Manresa School was formally invited by Shotoku Gakuin High School, which is a Catholic mission school in Matsue City, Japan that was established by the Hijas de Jesus Sisters on December 8, 1956, for a synchronous online communication. Select Grade 9 Manresan students interacted with the English club members of Shotoku Gakuin High School. This activity has become a yearly event but was only halted due to the pandemic. Through this encounter, the students of the two schools were able to rekindle their friendship and were given an opportunity to enhance both their communication and social skills through a conversational exchange of each other's culture (Filipino and Japanese).  
The interaction was held online via Zoom which started at 10:00 AM Philippine time. It was facilitated by Ms. Dolly Ann Mina and Mr. Alester Carreon of Manresa and Ms. Carmela Rey of Shotoku. The program started with an opening prayer led by Adlin Jireh Caronongan of Manresa School. The welcome remarks followed soon after, with messages coming from the Assistant Principal of the Junior High School of  Manresa School, Ms. Imelda Solivet and the school principal of Shotoku Gakuin, Mrs. Megumi Kajita.
Then, the students from both schools introduced themselves one-by-one, the Manresans introducing themselves in Japanese, while students from Japan introduced themselves in English. In fact, some were even brave enough to introduce themselves in Filipino. After a short intermission number from Manresa School, the students were split into seven groups where a small group conversation took place. For 45 minutes, they discussed various topics such as school life, hobbies, cultural differences, as well as the environment. The program was concluded with a special number and closing prayer led by the students from Shotoku.
"Interacting with the Shotoku students was a wonderful and unique experience that I'm sure will become a useful and fond memory for myself to remember," said Sophie Kirsten Pangan, one of the participants from Manresa School. "The encounter taught me to be more patient and understanding and that even if we come from different countries with different cultures and languages, we all have various similarities and we can get along with each other as friends."
Miguel Cedrick Matela, another participant from Manresa School also shared, "I guess it was fun and we were happy to see that the Japanese students were really trying their best to understand what we are trying to say." He also said that, "Despite the language barrier, I learned that Japanese students, or people in general, are very polite and patient even if they are having a hard time."
Philippa Doplon also asserted that "Even if I'm from the Philippines and the students we met are Japanese, we still have a lot of similarities in our interests, hobbies, what we think of school, and etc. This activity helped me improve my leadership skills and my speaking schools so I'm very content and happy with how I performed. This got me to step up and break out of my comfort zone. So, I'd like to thank Manresa for giving me this opportunity."
Written by:
Joaquin J. Jimenez (Grade 9- Justice)
Sophia Elise A. Larroza (Grade 9- Justice)