Hijas de Jesus Sisters visit Elijah Maristela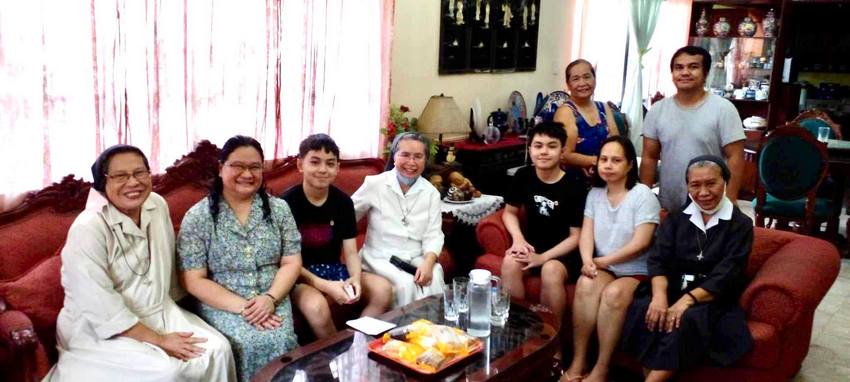 On July 8, 2023, at 9:00 AM, a group of Hijas de Jesus sisters paid a visit to Elijah Maristela, an incoming Grade 10 student who had recently been diagnosed with Acute Myelogenous Leukemia, a rapidly spreading cancer that affects his white blood cells and weakens his immune system. The purpose of their visit extended beyond merely checking on Elijah's condition; it was primarily to offer prayers for his healing and to provide strength to his entire family during this challenging time.
The visit commenced with a reading of the Gospel, followed by a brief reflection on its message. The sisters then proceeded to anoint Elijah with Holy Oil, invoking a short prayer individually as they gathered that morning. The prayer session concluded with the recitation of the "Our Father," "Hail Mary," and "Glory Be" prayers. As a gesture of support, the sisters presented Elijah with a simple token that he could use during his own prayers. Furthermore, they assured the family that they would continue praying for Elijah's swift recovery, and even the sisters residing in the retirement house pledged to offer a special prayer intention for him.
Among the sisters who participated in the home visit were Sr. Jeck Silorio, Sr. Cecilia Sequio, Sr. Mary Juelar, and Sr. Marianita Teñoso. It is requested that the entire educative family join in prayer for Elijah's well-being, as well as for the welfare of all Manresans.
In the accompanying photo, from left to right in the seated row, are Sr. Cecil, Sr. Jeck, Elijah, Sr. Marianita, Elijah's twin brother Elijer, and Elijah's mother, Sr. Mary. Standing from the right are Elijah's father and his grandmother, Beth.
Sir Ariel Canete