Some Impressions on Mother Candida's Life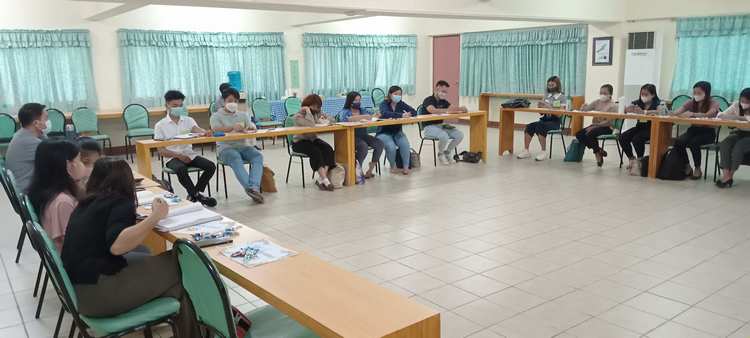 My impression of the sessions here at Manresa was quite refreshing. I just love how the school's history and foundress were well-described. Mother Candida has opened my eyes that Jesus is the Father and we are all brothers and sisters in Christ, which brings to the Manresa Tatak: Kapatid sa kapwa, and along the Vision-Mission, OCWE, and so on. Knowing that I am part of the institution has given me the inspiration to do better to inculcate the values of Mother Candida in creating a learning environment for the students alongside the Teachings of God. With these, I hope my journey starts greatly here at Manresa.
Clarise Andrea de Guzman
Mother Candida is a simple and courageous woman who made her life a constant surrender to the will of God.
My insight about the life of Mother Candida is very inspiring and full of motivation because, despite her status, she did not see her being poor as a hindrance to helping others instead, she found it as the key, that's why Mother Candida's aim to educate people, to teach other people on how to be a good person towards others. I believe that we are not just teachers but we are also formators.
Porshia Mascarinas
After all our discussions, I realized a lot of things. One of those is that the Manresa is a house/school of prayer. Knowing Manresa is about knowing the Kingdom of God and knowing God's graciousness and love for all. As the speaker introduced Mother Candida to us, I realized God is really a loving Father. He sends us his grace in different ways to know our calling, as instruments to see the world, and invites us to live with him forever.
Carlota Cano
I am so glad to hear and to know the story of Mother Candida. She is holy and she wants to spread this holiness to everyone… The thing that I could not forget is her giving her favorite omelet to the beggar. Not all people can do the things she has done, and also, I cannot forget when she has given up her life for God in her words: I am for God alone.
Lovelyn Camitan
My takeaway from the life of Mother Candida is that you don't have to be rich to help others. You can do it in your win simple way. And no matter what circumstances we face in our life we just need to surrender it all to God, just like Mother Candida did.
And I was also moved and inspired to continue helping others. I remember the happiness I felt doing that before.
Stephanie Roxanne Malabanan
Mother Foundress was a strong, kind, and spiritually insightful woman, despite the hardships she encountered, her tenacious faith enabled her to fully commit herself to both her spiritual development and to help others.
She dedicated herself to establishing the educational institutions of the Hijas de Jesus, a commitment that reflected her understanding of the value of education as a catalyst for transforming and collaborative progress. Despite difficulties and setbacks, she maintained her faith, which led to a successful endeavor that endured long after her death.
She was renowned for her exceptional traits of kindness, humility, and unwavering faith in God's Providence. She remained a person of profound contemplation right up to the point of her death drawing courage, wisdom, and strength from her unwavering faith.
Russel Calmante
"In Jesus, we have everything, without Him everything is lost." Is one of the well-known sayings of our dear Mother Candida that struck me the most. This saying really speaks the truth, which basically is that without God we will be nothing. The love care and salvation of God are the things that save us from all sins. I realized how blessed I am, that in spite of the poverty that I experienced before, still I finished my degree. The charism of Mother Candida enlightened us on the things we should be thankful for. I am grateful and blessed that God sent me to Manresa's community, in which God is the center of everything, and everyone treats each other as brothers and sisters.
Through this institution, I also learned that we should not decide or take action if we are at a high level of emotions. We need to discern it first. Talk to God, seek His guidance, and ask Him to enlighten our minds and hearts before we decide. We should at least try to live by the good examples of Mother Candida, see her as an inspiration for everyone, treating everyone as brothers and sisters.
Charyl Jane Mariz Romoereo