A One-Week Pre-Inset for New Faculty and Staff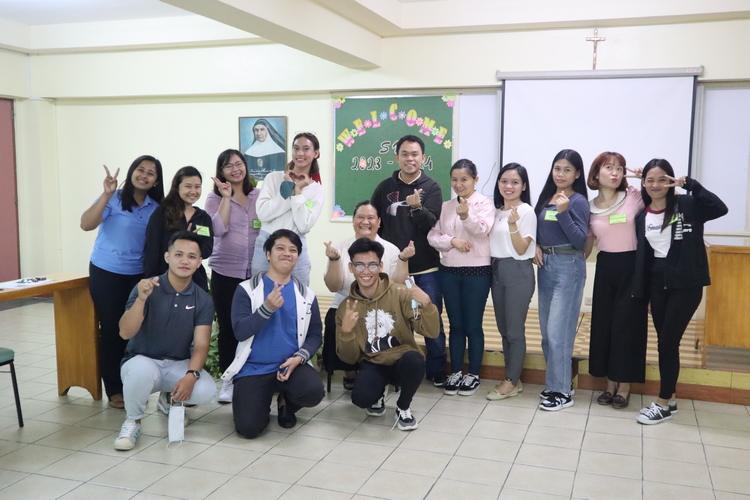 July 10 – 14, 2023 was scheduled as the week for the pre-in-service training. Pre-in-service training is essential for ensuring that new faculty and staff are well-prepared for their roles within the school community and helps in ensuring a smooth onboarding process and sets the foundation for a successful teaching and working experience.
It began with an opening prayer and singing of the National Anthem, then followed by the warm welcome talk of Sr. Joji Silorio, RCA. Then, Sr Joji introduced the administration and key personnel responsible for various aspects of the school's operations which helped new employees feel welcomed and informed.
The session proper began with Sr. Lee Uera, F.I. presenting the life and virtues of St. Candida Maria de Jesus,  a visionary educator and foundress of the religious congregation, the Hijas de Jesus (Daughters of Jesus). St. Candida served as a beacon of inspiration. Sr. Lee showcased videos and sayings that illustrated her profound faith, unwavering dedication to serving God and others, and her embodiment of virtues like compassion, humility, perseverance, and preferential love for the poor and the needy. The presentation lasted throughout the morning session, leaving a lasting impact on all attendees. 
In the afternoon, Mr. Eleazar Solas, the Quality Assurance personnel, presented the Vision-Mission of the School to the new faculty and staff. He emphasized that our school embraces a clear and compelling vision-mission that shapes our educational endeavors. Our vision portrays our community as discerning and believing in a God who is our Father, and all of us as brothers and sisters. Our mission is to instill a deep sense of purpose, moral values, and a lifelong passion for learning, empowering our students to become impactful leaders in the world, giving emphasis to the motto Tatak Manresa: Kapatid sa Kapwa, incarnating in our life the charism of Filiation-Fraternity inspired by our Mother Candida.
On the second day, Ms. Daphne Goitia discussed Our Characteristic Way of Educating, inspired by Mother Candida's style. The school believes in the uniqueness of each student and their distinct talents and abilities. Adopting a student-centered approach, the emphasis is on personalized learning and nurturing not only academic excellence but also emotional intelligence, creativity, and character development, all grounded in our identity as children of God.
The Pastoral Team through Mr. DM Geronimo presented the History of Manresa School sharing with them that established 52 years ago, the school has been a pillar of academic excellence and character formation within the community. Its legacy is founded on the dedication of passionate educators, supportive parents, and generations of students who have made a positive impact in diverse fields. As the school continues to grow, it remains committed to upholding the principles and values that define its storied history.
The Apostolic Calls of the GC XVIII were presented by Sr. Edhen Paranga, F.I. highlighted the determined direction of the Congregation's response to the greatest and most urgent needs of the time, which the school also, by discernment chose to embrace for the next three years. 
The subsequent sessions proved highly enriching for the new faculty. They were introduced to the Global Compact on Education, an initiative fostered by Holy Father, Pope Francis, which encourages all educational institutions to embrace a holistic and inclusive approach to education.
Furthermore, the orientations covered essential areas that play a vital role in the school's overall functioning as presented by the different area heads
Discipline: Faculty members gained insights into the school's discipline policies and strategies for maintaining a respectful and nurturing learning environment
Guidance Program: The importance of the guidance program was highlighted, emphasizing how it supports students' academic, social, and emotional growth.
Library: Faculty members learned about the school's library resources and their role in promoting a culture of reading and research among students.
PAASCU: An orientation on the Philippine Accrediting Association of Schools, Colleges, and Universities (PAASCU) shed light on the school's commitment to academic excellence and continuous improvement.
Compensation and Benefits: Faculty members were provided with information about the school's compensation and benefits package, ensuring a fair and supportive work environment.
Pastoral Ministry Orientation: The orientation on Pastoral Ministry underscored the school's dedication to nurturing the whole educative community's spiritual growth and fostering a sense of community and compassion.
Through these orientations, the new faculty gained a deeper understanding of the school's mission, values, and various support systems in place to facilitate their professional and personal growth. Equipped with this knowledge, they are now better prepared to contribute positively to the school's educational journey and make a meaningful impact on their students' lives.
Meanwhile, to break the "ice"  of continued presentation, the Guidance and Pastoral Teams provided games and enlivening activities.
The Pre-in-service training concluded with a one-day Recollection and prayer session, led by Sr. Gemma Doguiles, the High School Principal. The serene setting of El Rosarillo Chapel provided a peaceful and reflective atmosphere for the participants. During this culminating event, the faculty and staff had the opportunity to engage in prayer and contemplation, fostering spiritual renewal as well as sharing with one another their own experiences of  God, others, and themselves.
SOME REFLECTIONS BY THE NEW TEACHERS ON THEIR RECOLLECTION 
Reflection and Evaluation of the Recollection
July 14, 2023
By:  Russel L. Calmante
The recollection held last July 14, 2023, Friday, facilitated by Sr. Gemma, F.I. is an unforgettable experience.  It reminds me that we are not alone and have to be connected with the people around us.  The experience from the recollection gave me the courage to speak about myself, my belongings, and my weaknesses.  I felt a connection with God through my co-teachers in active listening.  God is our Sower; we tend to depend everything on him for us to grow, and to become good fruit for the world.  I never compare myself to Zacchaeus who went up to the tree just to see Jesus, because I always feel warmed that Jesus is in me, in my every Journey.  I am blessed with the life that I have, I have food to eat, clothes to wear, and a house that keeps me warm.  I have so many things to be thankful for. As a teacher, I am challenged to share my experiences and knowledge with my students and make them experience that God is in us.
I am expecting more of the transformation of myself here in Manresa.  Thank you so much.
Self–Reflection and Evaluation on the Recollection
July 14, 2023
By:  Clarice Andrea S. de Guzman
As a new member here in Manresa, the recollection that occurred last week left a very heartwarming experience.  The recollection was truly the right way in welcoming new teachers to this institution and to form our spiritual awakenings and realizations.  The values inculcated, and of course, the integral Christian education has given new perspectives on how we see ourselves become better as future educators.
The experience I had during recollection opened new doors, and opportunities in which I have realized that I can do anything when I believe in God, in Him, I can be stronger, better, and improve my mistakes with the realization of doing what is right.  I learned that in order to grow, we must accept who we were and who we are now, as we continue to shape ourselves into what we want to be in the future.  Beyond that, I am glad that I was able to witness such a welcoming event along with the new teachers from different areas. I am delighted that we were able to form good communication and relationships with each other as we inspire students to become lifelong learners in the future.
MORE PHOTOS
Prayer Experience with Sr. Jeck...
Pastoral Ministry Orientation by Sir Patrick
Orientation of the OutReach program by Sir Ariel
Guidance Orientation by Ms. Eds